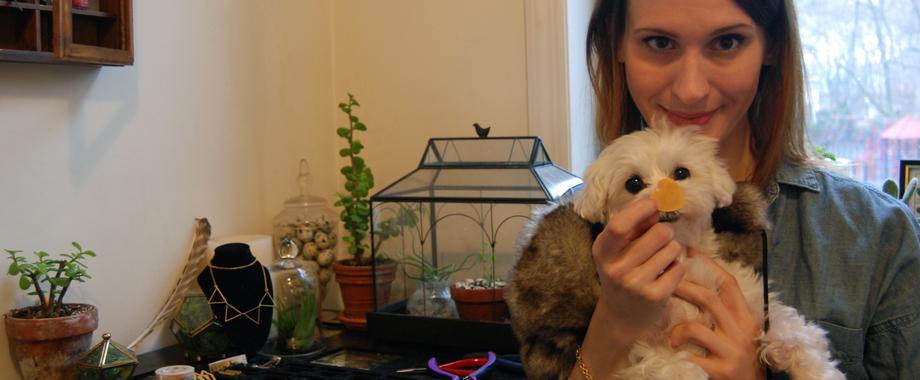 Il y a quelques mois, je vous ai parlé de la créatrice new-yorkaise Rebecca Thomas et de sa marque de bijoux à New York Pumpkinseed Jewelry sur la page Facebook du blog. A ma grande surprise, Rebecca a accepté de répondre à quelques questions sur sa vie, son quotidien à New York, plus particulièrement Brooklyn où elle vit toute l'année dans le quartier de Greenpoint mais elle m'a surtout proposé de créer une  ligne spéciale de bijoux pour We Love New York. Je vous laisse imaginer ma J-O-I-E !
Je vous propose de découvrir tout d'abord l'artiste (en anglais – n'hésitez pas à utiliser Google Traduction si vous avez pas un niveau d'anglais débutant ) puis demain je publierais quelques photos prises à Paris de l'une de ses créations. Je vous les présenterais au fil du temps car elles se glisseront dans mes looks de la rubrique « Blog mode Paris » » qui s'inspirent de la mode new-yorkaise, des créateurs new-yorkais. Rebecca en fait désormais partie.
Bonne lecture et n'hésitez pas à commenter l'article avec votre avis sur la collection Pumpkinseed Jewelry. Vous pouvez les acheter sur le site Etsy (15 % de réduction sur votre commande avec le code WELOVENEWYORK). Les frais de livraison sont peu onéreux.
1°/Hello Rebecca, can you introduce yourself and Pumpkinseed ?How did the concept Pumpkinseed ? 

Hi Viviane and We Love New York!  My name is Rebecca Thomas, and I am the founder of Pumpkinseed Jewelry.  I didn't start out designing jewelry —
As far back as I can remember, I have always been a lover of poetry…but always in a very abstract, non-specific way.   So one day, my friend , a painter, had a small engraving tool I borrowed. And I just started engraving little snippets of text on anything that didn't move…silverware, watch out.  Believe it or not, I had NO idea it would turn into jewelry-making…but eventually, I got better at the engraving and wanted to share it.
I think my process is different than most other jewelry makers in that the poetry and engraving on the item kind of informs me about how the piece will be created, rather than the aesthetic being foremost.   I have a sense of what text works well with what kind of charms, or at least I hope I do…and so many engraved options look so machine-made, whether they are laser-engraved or stamped, it doesn't evoke the feeling of an old letter, which is something I romanticize highly, and think other people do, as well.  There's something magical and numinous about words that really comes through better when its engraved in natural handwriting.
The name « Pumpkinseed » comes from my favorite poem by Robert Hass « Meditations at Lagunitas »
« muddy places where we caught the little orange-silver fish / called pumpkinseed./ It hardly had to do with her. /Longing, we say, because desire is full of endless distances. »

2°/ Have you always lived in New York ? What does New York mean to you ?
I grew up in Pennsylvania, about 3 hours from NYC, and I grew up taking trips with my family all the time.  I went to college in upstate New York, then moved to South Carolina for several years, then my little sister moved (from Paris) to New York and I followed her up here. We've been super close ever since and its the best thing about New York , to me, to be close to my sister and see her so often and explore things together.  
To me, New York represents endless possibility –there's a sense here that anybody can achieve anything and there are no limits.  Its a very liberating empowering feeling, but it also can be intimidating, because I think at heart I'm just a small-town girl.
3°/Can you suggest us your best addresses in NYC ? What is your favorite place in New York and why ? 
I have lived in the same 3-block area in Greenpoint, Brooklyn for 5 years and I wouldn't move from here for anything! I live on McGolrick Park, and its so nice to be able to go outside and let my dog run in the park and to be able to walk everywhere.  Its just out of the way enough that its not too crowded,  but its still close to everything I need.    I love my local bars, which are nothing fancy, but they attract a great mix of people. Some ones I favorite are: The Palace, The Boulevard Tavern, Enid's and Matchless.   And the shopping in Williamsburg is the best in all of New York!
I think New Yorkers are especially provincial and have a strong pride in their boroughs and neighborhoods, and it really does start to define you, because it defines so much of your quotidian life.  So that was my inspiration for the « Brooklyn » cuff bracelet, which became a very popular item.  New Yorkers are very proud of their neighborhoods!
5°/ Maybe, a last word to the readers of We Love New York ? To purchase online your products « Pumpkinseed », what are the shipping costs in France? Can we find your creations to New York?
I am absolutely flattered by your interest, and I would be thrilled to make custom items for readers of  We Love New York!  In fact, I have engraved in Mandarin Chinese and Greek lately, so I would love to do some engraving in French as well!  And as most of my items are two-sided, I could do one side in English and one in French, so you could switch 🙂 Currently it costs 8$ to ship items to France, however I have created a special just for this blog!  If you enter « WELOVENEWYORK » as a coupon code during the checkout process, you will receive 15% off any piece of jewelry!  You can find my items at http://www.etsy.com/shop/pumpkinseedjewelry
Thanks again Viviane!
Forte demande
Vous l'adorez pour un séjour magique à New York : Take me to New York (en français)
Nos milliers de lecteurs adorent:
Le choix en version eBook (PDF) ou papier à partir de 14,99 € seulement pour 240 pages

La qualité des photos, illustrations et du livre

Son identité de guide atypique personnel qui n'existe nulle part ailleurs

Zéro page de publicité

L'accès privilégié à mes 30 itinéraires interactifs favoris dans tout NY

La recommandation de mes tops lieux/spots par thématique : incontournables, food, shopping, gluten-free, enfants, etc.

Les économies réalisées avec plus de 200 activités gratuites et insolites pour en profiter encore plus

Que je vous emmène au-delà de Manhattan : The Bronx, Queens, Brooklyn, Staten island avec mes 30 itinéraires favoris et personnelles

Les expériences immersives qui promettent de sacrés merveilleux souvenirs !

Et toutes les autres surprises 😍
Commander votre exemplaire avant la rupture de stock
Voir les avis de nos lecteurs