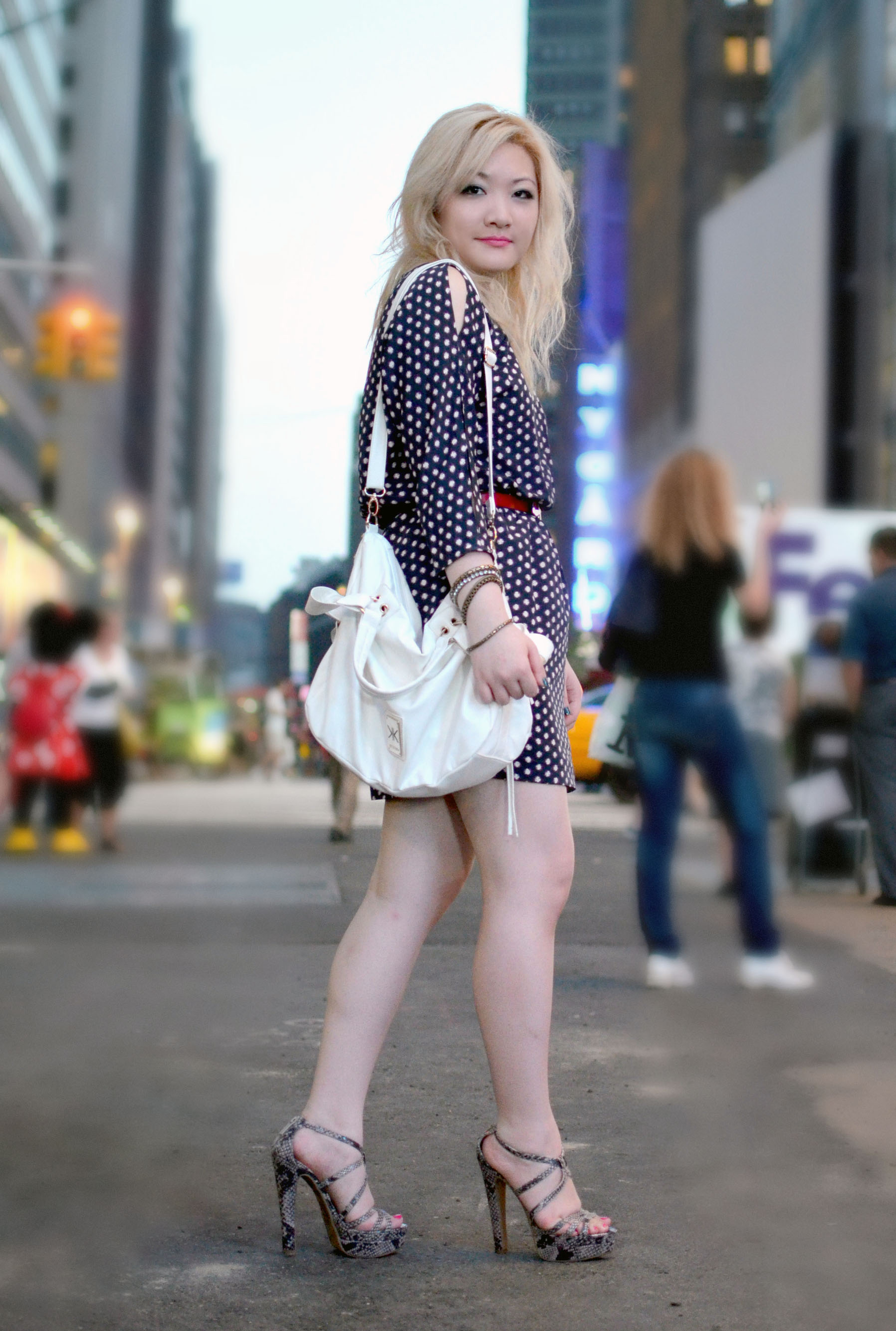 Chers lecteurs ou lectrices plutôt pour cette fois (pas de souci, je vous réserve une belle interview pour la prochaine fois les boys !), J'ai l'honneur de vous présenter aujourd'hui l'une de mes connaissances, une blogueuse de mode new-yorkaise : Tineey. Son blog cartonne aux Etats-Unis. Passionnée par la mode, Tineey propose un nouveau look tous les jours à ses lectrices. Elle a lancé son blog en mai 2010 et a accepté de répondre à mes questions afin de partager son quotidien à New York, ses bons plans, sa lifestyle, sa vision des choses. Comme d'habitude, soyez indulgent pour la traduction. I'm not a professional translator ! Bonne lecture ! 🙂
♥ Why have you created a blog ? Can you introduce your blog and yourself please ?  
 I've been blogging since high school, but my current blog, Tineey (my nickname), was started as a place to showcase my creativity and interests with a focus on fashion and style. Back then, I had recently graduated from college and started to work in the fashion industry. Having the blog allowed me freedom to post about the things I was passionate about and it also served as a portfolio of my work. Now, it has transformed into something incredibly different — my own brand. The growth allowed me to expand into areas of beauty and my New York lifestyle.
Je blogue depuis l'école secondaire, mais mon blog actuel, Tineey (mon surnom), a commencé comme « un endroit » pour présenter ma créativité et mes intérêts en mettant l'accent sur ​​la mode et le style. À l'époque, après avoir été diplômé de l'Université, j'ai commencé à travailler dans l'industrie de la mode. Avoir le blog m'a permis d'avoir une liberté pour écrire sur les choses qui me passionnaient et il a également servi comme un portfolio de mon travail. Maintenant, il s'est transformé en quelque chose d'incroyablement différent – « ma propre marque ». Sa croissance m'a permis de me développer dans les domaines de la beauté et mon style de vie à New York.
♥ 

H

ave you always lived in New York ? What does New York mean to you ?  
I am a native New Yorker who went away for college and came right back. There is something about this city that I can't find elsewhere. Living here still excites me everyday because there is something new to try and see all the time. New York to me means endless possibilities and opportunities. There are so many resources available that even if there is not an opportunity present, you can still create one yourself. Also, the shopping here is amazing!
Je suis originaire de New York, je suis partie pour l'université et je suis revenue tout de suite. Il y a quelque chose dans cette ville que je ne peux pas trouver ailleurs. Vivre ici m'exalte encore tous les jours parce qu'il y a toujours quelque chose de nouveau à essayer et à voir. New York, pour moi, c'est une infinité de possibilités et d'opportunités. Il ya tant de ressources disponibles que, même s'il n'y a pas une possibilité présente, vous pouvez toujours en créer une vous-même. De plus, le shopping est fantastique !
♥ Can you suggest us your best addresses for the shopping for the We Love New York's fashionista ?
I love shopping the stores down 5th Avenue. From the department stores to the flagships, its the best for selections and inspiration. The windows are enough of a reason to visit. I also love shopping the different boutiques in SoHo. There are a lot of fashion-forward and meticulously curated shops in the area.
J'adore faire du shopping dans les magasins de la 5ème Avenue. Des grands magasins aux flagships, c'est la meilleure pour les sélections et l'inspiration. Les vitrines sont une raison suffisante pour visiter. J'aime aussi faire du shopping dans les différentes boutiques de SoHo. Il ya beaucoup de fashion-forward et des commerces méticuleusement curated dans la région.
♥ What is your favorite place in New York and why ?
 This is a hard question because I love so many different places in New York. I do, however, find myself at Madison Square Park a lot — not to mention, the famous Shack Shake is nested in there. I would recommend any visitor to try the burgers. It's a must!
C'est une question difficile parce que j'aime tellement d'endroits différents à New York. Je me retrouve beaucoup, cependant au Madison Square Park – pour ne pas mentionner, le célèbre Shake Shack qui est imbriqué à l'intérieur. Je recommanderais à tout visiteur d'y essayer les hamburgers. C'est un must !
♥ Can you give us the girls's favorite beauty products who live in New York City ?
Living in any big city is stressful to your skin. There is so much going on in the air that taking care of your face is key. My personal favorite beauty items include my Clarisonic Mia, MAKE UP FOR EVER black gel liner, and AMOREPACIFIC Hydra Gel moisturizer. Detoxifying is a big thing here. The Blueprint juice cleanse is a favorite with the girls.
Vivre dans une grande ville est stressante pour votre peau. Il y a tellement de choses qui se passent dans l'air que prendre soin de votre visage est la clé. Mes produits de beauté préférés personnelles inclut : my Clarisonic Mia, MAKE UP FOR EVER black gel liner et AMOREPACIFIC Hydra Gel moisturizer. Le détoxifiant est une grande chose ici. La cure de jus de Blueprint est un favori pour les filles.
 ♥ About you, you think the New Yorker are …  (For example, the parisians are grumpies).
I think New Yorkers are hustlers. Everyone I know are focused and motivated. It's a competitive city!
Je pense que les New-Yorkais sont débrouillards. Toutes les personnes que je connais sont concentrés et motivés. C'est une ville compétitive!
♥ Maybe a word to the readers of We Love New York ?
I want to thank you for taking the time reading this interview! I think New York is a great city for culture, food and fashion. There is something for everyone here.
Je tiens à vous remercier d'avoir pris le temps de lire cette interview! Je pense que New York est une grande ville de la culture, de la nourriture et de la mode. Il ya quelque chose pour tout le monde ici.
Le site de tineey.com
Thank you so much Tineey !